Board Members Sports Water Innovator Names Steven Fisher CEO; Operations and Finance Experts Mark Loeffler and Matthew Howison Join Mark Wahlberg on Board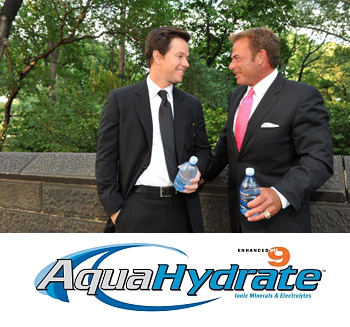 NEW YORK & HUNTINGTON BEACH, California — AquaHydrate recently announced the appointment of Steven Fisher, of the renowned New York construction and real estate family, as CEO of the fast-growing sport water company. In addition, Mark Loeffler and Matthew Howison have been named to the expanded board bringing AquaHydrate their branding, operational and financial experience.
The new appointments further fast-track the company to accelerate its drive into the $15 billion U.S. bottled water market.
"I am delighted to be appointed CEO of AquaHydrate at such an exciting time in the company's development and to lead such an experienced and talented team," said Mr. Fisher. "An enormous amount of hard work and dedication has gone into developing a unique high-performance product, and we are well positioned for a major rollout. With this team in place, we can take our company to the next level in a market with extraordinary upside." Mr. Fisher is a member of the third-generation New York construction and real estate family and also serves as the Chairman and CEO of Plaza Construction Company. Plaza is a leading New York-based construction company with revenues of more than a $1.4 billion and more than 450 employees. Fisher has been awarded the Ellis Island Medal of Honor, as well as the Outstanding Leadership Award presented by the Greater New York Construction Users Council. Mr. Fisher is a member of the Board of Trustees of the Intrepid Sea, Air & Space Museum, a member of the Board of Governors of the Police Athletic League and Vice President of the Board of Trustees of the Police Museum.
Mr. Loeffler, who also serves as CFO of AquaHydrate, is a corporate financier who has held operational, financial and business development roles for major U.S. corporations. His executive positions have included McKee Foods Corporation and Stantec, a New York Stock Exchange listed engineering firm. In addition, he has been an advisor to Republic of Philippines for international debt obligations and bilateral loans. Over his career, Mr. Loeffler has arranged $500 million in trade and export finance.
In addition, new board member Mr. Howison is the founder of the privately owned merchant banking firm Emerald Partners. Based in Sydney, Australia, Emerald Partners has recently managed capital acquisition for AquaHydrate and is now providing ongoing corporate and strategic advice to the company. Mr. Howison formerly held senior positions in the investment banking divisions of Goldman Sachs, Salomon Smith Barney and NM Rothschild & Sons. He has extensive experience in IPOs and public company mergers and acquisitions.
The new directors join actor Mark Wahlberg, AquaHydrate's fourth board member and foundation shareholder. The Oscar-nominated actor was first introduced to AquaHydrate during his rigorous training regimen for the film "The Fighter" — a boxing biopic due to premiere later this year. Wahlberg experienced the performance and recovery benefits of AquaHydrate first-hand during his training, and as a result, he became a business partner of the company.
AquaHydrate is currently in advanced discussions with a number of major strategic investors in order to secure a long-term partner that will provide distribution and enhanced marketing capability for the product to allow the company to further advance to the national rollout out phase of its U.S. strategy. There are plans to expand into overseas markets and discussions are being held with major international beverage distributors. AquaHydrate is currently available in the U.S. in more than 2200 stores including grocery, health and natural food stores and online.
About AquaHydrate AquaHydrate, the first high-performance sports water, is specially engineered to support optimal hydration, performance, and recovery. AquaHydrate is made through a proprietary, multi-step process in which water is purified to some of the most rigorous standards in the industry, raised to an alkaline pH of 9.5, and then supplemented with electrolytes and natural trace minerals. AquaHydrate is the only bottled water on the market with this unique combination of purity, electrolytes, minerals and alkalinity.
AquaHydrate is aimed at discerning consumers in the health and fitness markets who are looking for a competitive edge. When athletes drink AquaHydrate on a regular basis, they notice significant improvements in their mental focus, sports performance and ability to recover after intense workouts and competition. AquaHydrate is the water of choice for elite and professional athletes such as Vince Wilfork of the New England Patriots, golf legend Jack Nicklaus, professional women's basketball player and Olympic Gold Medalist, Delisha Milton-Jones and countless others. AquaHydrate is the official sports beverage of the Men's and Women's USA Water Polo Teams as they train for the 2012 Summer Olympics, where they are expected to be among the top medal contenders.
As the first high-performance sports water, AquaHydrate provides an authentic alternative to sports drinks that are loaded with sugar, caffeine, and artificial additives. Likewise, it provides a new option for water drinkers looking for a health and performance boost.
AquaHydrate is available through a variety of grocery, health and natural foods stores throughout the U.S. and through the website.
AquaHydrate was represented on CNBC on September 1, 2010. Mark Wahlberg and Steven Fisher were interviewed on the Power Lunch show.
Note: Tri-S Environmental provided consulting services to AquaGenus, the parent company of AquaHydrate, which included water treatment process optimization and system maintenance recommendations.
Source: cnbc website